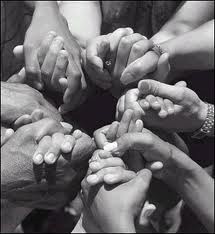 Every day there are families, children and individuals in need. The needs are legion and it is extremely difficult at times to discern the level of need in each particular situation and the legitimacy of the need and our capacity to address that need. All funds donated to the Helping Hands Fund go to helping those in need. The amount of donations will dictate the help that can be given.
Purpose:
The Helping Hand Fund seeks to provide the necessary concrete support to persons in times of need, and promote self-sufficiency to ensure a solid building block for a sustainable future.
Process for helping those in need:
An initial contact needs to be made to the Life Source Center office by phone  (860-628-874) or by e-mail (lifesourcecenter@aol.com). Contact is made through a referral on behalf of individuals or families falling on hard times.  Referral sources consist of not for profit entitiies such as churches, schools and community service providers.
A follow up letter is written by the referring source. In the letter is documented the specific need to be addressed as a result of a donation made by the Helping Hands Fund.
Designated funds will be made available to underwrite the costs of addressing specific needs that will have a measureable .positive outcome.  Funds would not go directly to individuals or families but rather made to those entities that would provide needed goods or services.  After funds have been dispersed, a follow up letter from the referring  organization or the recipient testifying as to the impact and results of the donation.
Donations:
Those wishing to make a contribution or donations, can do so by sending a check or money order, which can be made out to The Helping Hand Fund and mailed to the Life Source Center, 710 Main Street, Plantsville, CT 06479. 100% of all funds received, go directly to assisting those in need and are accounted for as such.
Only request letters coming from not for profit organizations on behalf of individuals and families are read and considered by the Helping Hands Fund grants funding volunteers. Please be advised that any information provided to us in the request letter is not confidential and is not required to be treated as such.
Please be aware that the Helping Hands Fund receives many requests from people in dire situations and is unable to provide assistance to every applicant. There is no guarantee that needy persons will receive funding from Helping Hands Fund.  However, the Helping Hands Fund will respond to every request. Only qualified requests that are related directly and indirectly to improving one's quality of life and moving them to a higher level of productivity.
Once the request letter is received, additional information may be needed. This additional information will be used to assist the Helping Hands Fund fully understand the individual or families' current life situation and need. and tother pertinent information.  Any additional information that is provided to us following the initial request letter will be considered confidential to the extent required by applicable law.
Contributions made are dependent solely on funds available and the level of need.  In order to help as many people as possible, the amount of funds allocated are modest in nature.